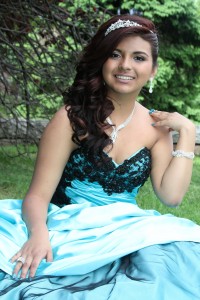 How to Prepare your Hair for your Quinceanera
To show off an enviable mane at your party you have to start taking care of it before.
A stylist can't do a good job if he doesn't know what type of neckline your dress has and the accessories that you are going to wear, whether earrings, crown or some kind of headdress. The professional needs all these elements to get a real idea of your special day and make you happy.
1. Bring photos
"One thing that always sticks out in my mind is a class at beauty school where we all had a paper and pencil and the instructor described a hair style and we had to draw what we thought she was wanting. No two drawings were even close. If you have an exact idea of what you want your hair to look like, bring a picture. You can even bring in multiple pictures and say 'these bangs,' and 'these layers,' but if possible, choose photos of people whose hair is a similar texture as yours–the style will be much easier for us to recreate on you.